Differences Between an Assisted Living Facility and a Nursing Home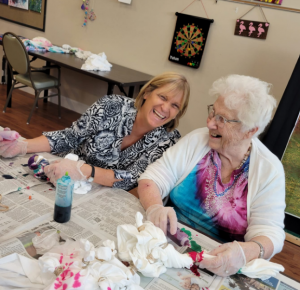 One of the natural facts of life is that we all age. As that happens, we may need help with the daily tasks we once were able to perform on our own. Whether you've noticed these changes in yourself or a loved one, it may be time to start thinking about the next step in your journey. You'll be glad to know that help is available. There are many types of senior living options available to you. Assisted living facilities and nursing homes are two of the most common ones. In this blog post we'll review the similarities and differences between them.
Assisted Living VS Nursing Homes: What's Different?
Residents in an assisted living facility receive some help from caregivers but are still able to live independently.
Residents of nursing homes need around-the-clock monitoring and often need the care of a nurse.
Assisted living facilities provide life enrichment programs and three well-balanced meals a day.
Nursing homes offer skilled nursing services, meals, and do not offer as many recreational services.
Assisted living facilities are very home-like.
Nursing homes provide a clinical environment.
Assisted Living VS Nursing Homes: What's the Same?
Safe Living Space – Assisted living facilities and nursing homes may have different layouts, but they are both designed with the aim of keeping older adults:
Both of these facilities have safety features such as:
Handrails
Grab bars
And emergency call systems.
Nutritious Food – Whether you're in the kitchen of an assisted living facility or a nursing home, you'll find that the goal of the kitchen staff is to:
Create well-balanced meals for the residents.
Supportive Services – The employees of both facilities offer assistance with daily activities such as:
Grooming
Bathing
And transportation.
Sense of Community – Both assisted living facilities and nursing homes offer life enrichment activities that include:
Games
Arts and crafts
And movies.
This is especially helpful for older adults who tend to isolate themselves.
Is Assisted Living the Right Choice?
If you're still trying to decide if assisted living is the best choice for you or a loved one, then ask yourself the following questions:
Do you or your loved one feel isolated or lonely at times?
Would you or your loved one enjoy a sense of community in your day-to-day life?
Would you or your loved one enjoy making new friends and participating in new activities?
Would you or your loved like to remain independent?
Does your loved one need additional support during the day that is beyond your ability to provide?
 Call Us Today to Schedule a Tour
If you would like to learn more about living in an assisted living facility, then call us today to schedule a tour of Grand Oaks. You'll have the ability to see what everyday life is like here and you can ask our tour advisor any questions you may have. We look forward to hearing from you soon.