Resident Maria Celebrates Her 100th Birthday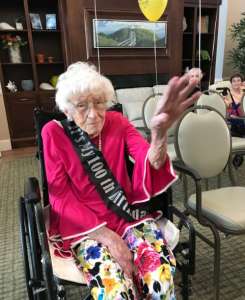 We recently held a 100th birthday celebration for Maria P., a current resident of our memory care community. Many of our assisted living and memory care residents, as well as our staff members, joined Maria in celebrating her special day.
The Nettles Island Clown Ensemble brought lots of fun and laughter to the party, and the singing duo "Don and Annette" also entertained the crowd with musical hits from the past, including Frank Sinatra, Doris Day, the Andrews Sisters, and Dean Martin. They also sang "Happy Birthday" to Maria, who happily clapped when the song was finished. Maria and her guests also enjoyed a big slice of her 100th birthday cake, which was donated by Aycock Funeral Home in Stuart.
Maria was born in 1919 in Kiev, which was part of Poland at the time. She is the oldest of five children. Her family owned a farm before her father immigrated to the U.S. in 1930 to begin construction work on the Empire State Building. Two years later, when Maria was just 11 years old, she and the rest of her family immigrated to the U.S. through Ellis Island.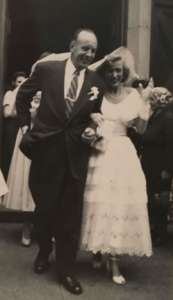 Maria worked as a hostess in a restaurant in New York City. She was always impeccably dressed and wore her blonde hair in an elegant French Twist. On June 24, 1950, she married her husband, Charles. Together they enjoyed spending many weekends at their second home in upstate New York. Maria also loved to garden and grow beautiful pink and red geraniums.
She and Charles eventually relocated to Stuart, Florida, where Charles operated a funeral home for several years. While in Florida, Maria joined a bowling league and enjoyed playing often. She was married for 49 years until her husband passed at the age of 93.
Maria has a love of animals, especially dogs. She had a favorite Dachshund named Hoffi that she loved very much. She says her favorite thing about living at Grand Oaks is when the therapy dogs from the Humane Society of the Treasure Coast come to visit.
Grand Oaks of Jensen Beach is located in the heart of the beautiful Treasure Coast and has all the amenities of a 5-star resort. Residents are provided with state-of-the-art medical care in a cozy, comfortable, and safe environment.
For more information, contact Beth Kelley at 772-209-3119 or visit us on the web at www.grandoaksjensenbeach.com.